Dubai, UAE – Demonstrating its leadership in providing innovative and patient-centric healthcare solutions, Royal Philips Electronics (NYSE: PHG, AEX: PHIA) showcases its comprehensive oncology solutions during Arab Health 2013 in Dubai, UAE, taking place from 28-31 January. Focusing on the needs of cancer care providers and their patients, Philips is teaming up with health care professionals to provide locally relevant solutions that extend beyond technology and address the broader issues of cancer service management in the Middle East and Turkey.
Philips provides oncology solutions that comprise of an impressive technology spectrum: from advanced imaging and treatment planning to image-guided interventional oncology, as well as patient monitoring and enterprise informatics platforms that extend to home healthcare. Philips' comprehensive, patient-centered solutions ensure connectivity from hospital to home and support clinical practice, enhance patient care, and reduce cost.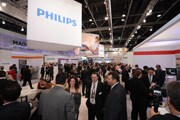 The World Health Organisation (WHO) estimates over 272,000 cancer related deaths in the Middle East and North Africa annually and are set to increase significantly by 2030. WHO has determined that the priority areas for intervention are: primary prevention and early detection, particularly of breast cancer; integration of cancer interventions into primary health care; and promotion of palliative care, including home carei.
Taking a comprehensive disease-oriented approach in providing optimal care from screening, diagnosis, treatment, management and surveillance, Philips is demonstrating oncology solutions relevant for the region. Some key examples on show are the MicroDose digital mammography system that provides mammography images at low radiation and the Sonalleve MR-HIFU therapy system which is being studied as a non-invasive method for destroying tumours in the body. In addition, Philips will be showcasing a number of innovations under development, including a Home Clinical Monitoring prototype system designed to support cancer patients being given chemotherapy.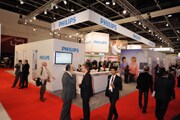 "Philips is transforming the delivery of oncology care through meaningful innovation. Here in the Middle East and Turkey we are working together with our customers to provide solutions that help them adapt to the changing healthcare landscape and enhance patient quality of life from the hospital to the home," said Diederik Zeven, General Manager, Philips Healthcare Middle East and Turkey.
According to Cancer Research UK, an estimated 12.7 million people were diagnosed with cancer across the world in 2008ii. Breast cancer is the most common malignant disease among women, with an increasing incidence worldwide especially in the Middle East and North Africa Region, where the annual rate of incidence has risen by 5.8% in 2010 in comparison to the global rate of 3.1%iii. However, in the developed countries there has been a dramatic decline in mortality rates, that can be attributed to detection in early stagesiv.
During Arab Health, Philips will be offering attendees a tour through the main elements involved in developing a comprehensive disease-oriented solution that differentiates care from screening and diagnosis to treatment, management and surveillance. This also includes focusing on the overall experience in a cancer care setting such as clinical ambience, workflow and patient care decision making.
To learn more, visit Philips at Arab Health 2013 in Saeed Hall 2, Stand No S2F10 at the Dubai International Convention & Exhibition Centre from January 28th to 31st, 2013 or go to www.philips.com/arabhealth.

---
iWorld Health Organisation - Strategy for cancer prevention and control in the Eastern Mediterranean Region 2009—2013. Available at: http://applications.emro.who.int/dsaf/EMRPUB_2010_1278.pdf
iiCancer Research UK. Cancer Incidence Worldwide Map. Available at: http://publications.cancerresearchuk.org/downloads/Product/worldmap.pdf
iiiInstitute for Health Metrics and Evaluation, The Challenge Ahead: Progress and Setbacks in Breast and Cervical Cancer, 2011
ivJournal of the National Comprehensive Cancer Network. Modification and Implementation of NCCN guidelines on Breast Cancer in the Middle East and North Africa Region. July 2010 Available at www.nccn.org